The Building
As the primary feature of the total layout, the Bell Tower is located in the center of the western rim of the Mayfield. The field is surrounded by a bank, which gradually rises to an elevation of 19 meters, (62 feet). The Olympic Stadium has a height of 17 meters (55 feet), and is designed with seating for 75, 000 spectators. The tower completes the western end of the Olympic grounds, and dominates them with a height of 77.17 meters (247 feet), representing an overall altitude of 145 meters (465 feet), above sea level. Visitors are able to appreciate the interrelationship of xxx the structures, once he or she has entered the Olympic complex from the east.
TVisitors can reach the platform on top of the Bell Tower via an express glass-enclosed elevator, which transports him or her in appr. 25 seconds to where the bell is housed. The "new" Olympic bell was cast in the pattern of the original bell, which was damaged during the war. The lower rim features the five Olympic rings, and bears the inscription "I summon the Youth of the World - Olympic Games 1936". The Brandenburg Gate and an eagle are engraved on its cope.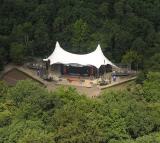 After a short climb from the bell chamber to the platform, visitors xxx enjoy a magnificent view of Metropolitan Berlin, and the lakes and forests, which surround the city. Visitors are able to visualize how the Bell Tower represents the primary feature and focal point in the overall lay-out of the Reichssportfeld", surrounded by the other structures. The former Reich Academy of Physical Training and the House of German Sports can be visited. The structures were conceptualized and built under the supervision of architect Werner March between 1926 and 1929, and (enlarged)extended between 1934 and 1936. The buildings served as the Headquarters of the British Military Government in Berlin until 1994. Additionally, the tower provides a clear view of the Forest Theatre "Waldbühne", and the northern parts of the Grunewald between Glockenturmstrasse and Charlottenburger Chaussee, which is generally inaccessible to the public, since it is used as a training area by the Berlin police.