Waldbühne / Forrest Theatre
From the tower, one can look down into the Waldbühne, which can only be visited by attending performances. Both sides of the entrance feature stone statues created by the sculptor Adolf Wamper. Two nude young men, holding a sword and a torch as symbols of the "national celebration", are located on the left; the right side features two young women embellished with oak-leaves and a lyre, symbolizing the celebration of music. This open-air theater was formerly named after the "poet of the Nazi movement" Dietrich Eckart. The structure replicates the ancient theater of Epidaurus (3rd century B. C.).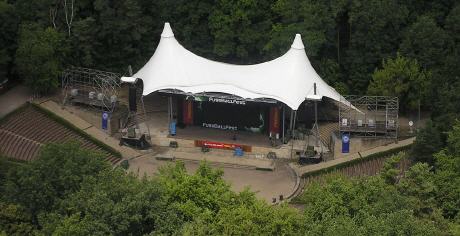 The Forest Theater was built by utilizing the glacial river banks of the Berlin prehistoric valley ('Urstromtal'). It forms an impressive 30 meters (97 feet) deep theater, which can accommodate 22,000 spectators. 88 steps lead down to the stage. Two broad vertical aisles divide the theater into three sections. Hitler's private box was located in the center of the middle-section; located underneath was the stage-managers stand. The Olympic gymnastics competitions and a cultural program took place at the theater during the 1936 Summer Games. Thereafter, the Waldbühne became famous for featuring boxing-matches. Numerous pop, rock, and classical music concerts take place at the event location during today's Summer Concert Season.