Maifeld / The Mayfield
The Mayfield lies at the foot of the tower, and comprises an area of 112,000 square meters (appr. 28 acres). During the Olympic Games, the polo and dressage events, as well as an exhibition organized by 20,000 Berlin school children, took place there. As the name indicates, the Mayfield was used primarily for celebrations on the 1st of May (May Day celebration). The photo depicts the Mayfield during the 2006 World Championship of Soccer.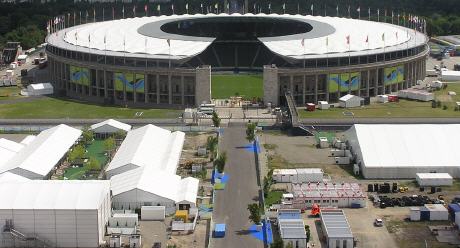 The Mayfield is able to accommodate 250,000 people, the terracing can additionally hold 60,000 spectators. Until 1994, the annual birthday parade for the British Sovereign was held on the field, attended by thousands of German spectators. The Mayfield was part of the British Protecting Powers zone. British administrators organized various athletic competitions, such as rugby, football, and polo. Today, the Mayfield continues to be used for sports competitions by German teams. The sculptures at the east end of the Mayfield, representing horses being led, is the work of Josef Wackerle. The front of the massive center of the Bell Tower, the Langemarckhalle, as well as the entrances to the tower and Mayfield, including the lateral main stairs, are finished with stout stone brought to Berlin from the the Lower Alps region ('Nagelfluh', www.nagelfluh.de), giving the edifice a(its) robust appearance.