Langemarckhalle
BVisitors are invited to view the Langemarckhalle, located beneath the grandstand of the central floor in the heart of the overall structure.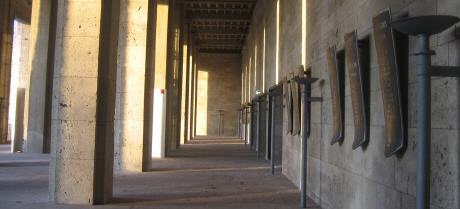 The building is dedicated to the young German soldiers, who lost their lives during the First World War. It primarily serves as a tribute to the volunteer and reserve regiments, who, inadequately trained and armed, suffered devastating losses during the battle of Langemarck near Ypres, in the Belgian province of West Flanders, on November 10th, 1914. The Langemarckhalle thus commemorates the generation of young people who were killed on the battle-fields instead of participating in, or viewing the Olympic games of 1916.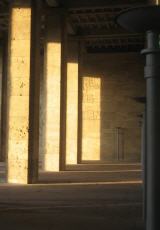 Located in the hall are twelve pillars, formally bearing the 76 flags of the regiments that took part in the battle. Twelve shields were displayed on the block of the Bell Tower, bearing the names of the divisions and their units. The shields were placed into storage by British troops before the tower was blown up. They now hang on the eastern side of the hall to the left and right of the doors opening to the Mayfield. The narrow ends of the hall bear two quotations from the poets Friedrich Hölderlin and Walter Flex. The names and the dates of these poets lives were carved into the walls of the hall during the 1960's as follows: Hölderlin 1770-1843, and Flex 1887-1917. The hall opens up to the west, granting a view of the landscape of Brandenburg County.